A true team environment. All meet details handled: we load the bar, we handle the numbers, we are on the platform with you. Your coaches, your teammates, there every step of the way.
---
Volition Fitness Barbell Club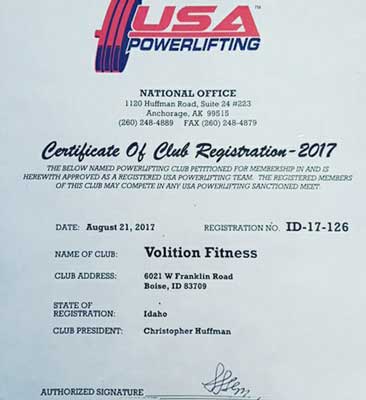 Volition Fitness Barbell Club is an official USAPL barbell club (Registration Number: ID-17-126). As coaches, we ensure that our club members have 100% of their meet details handled, from attempts planning to full support during warmups, attempt turn-ins, and timing of peaking. For our clients, we build comprehensive programs that are structured around their individual goals, with weak point training in mind. Our focus is on building a strong work ethic centered around self-improvement, mental toughness, and critical analysis of performance.
Our clients make our team whole. We are there in support of each other and our goals, and provide each other with the motivation to improve ourselves and the team as a whole. We will be there to help you focus, whether that means pumping you up or calming you down. We respect every client and their place in the barbell club, and encourage all team members to be willing to put forth an effort not only to succeed for themselves, but to help other teammates succeed by showing them our utmost support. We are Team Volition Fitness.