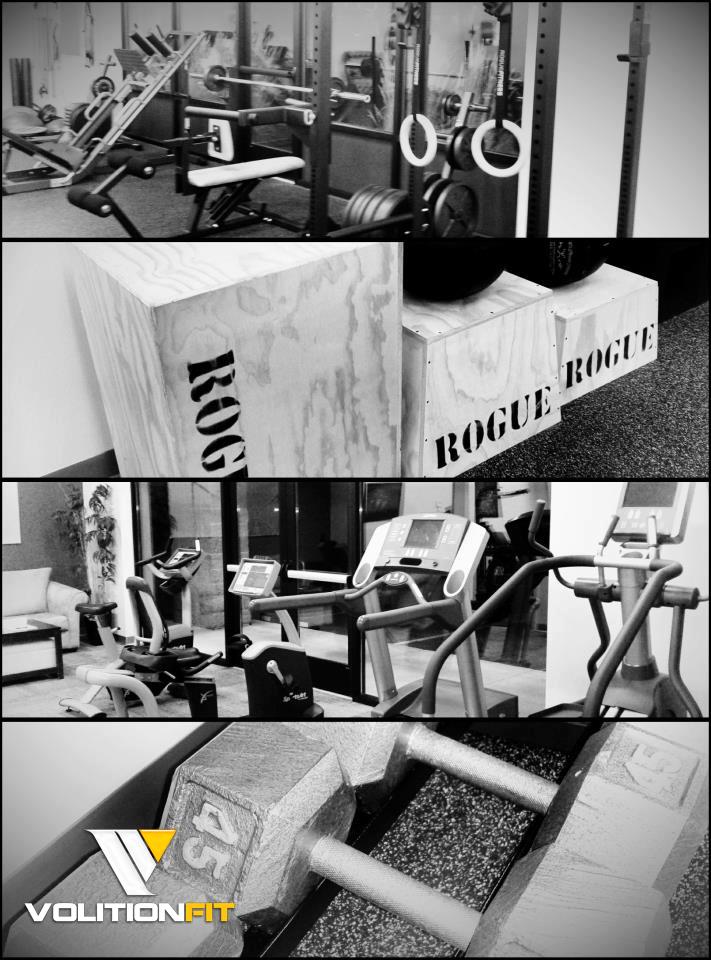 More information about our personal training options and programs at Volition Fitness Boise.  We offer multiple ways for you to get the highest level of care at an affordable price.  Month-to-month options, session packages, and long-term discounts are all available; be assured we work on a case-by-case basis.  We will work with you to determine the best path to a successful fitness lifestyle, and work with your finances to make your goals reality!
For the best results, training at a our fully equipped studio is highly ideal. Overall selection of resistance training equipment, cardiovascular equipment, and additional facilities allow a very flexible and dynamic program. For general fitness, the array of cardiovascular equipment and resistance machines allow seamless and effective circuit training. For bodybuilders and powerlifters, access to great amounts of weight and resistance solutions allow maximal growth and strength development. For sport specific performance, our facilities can accommodate specific training solutions.  I work to provide a specific solution to your goal, and ensure results through a systematic and safe exercise program.
Volition Fitness

VS.

Other Gyms, Clubs & Trainers

Volition Fitness offers the latest proven nutrition, supplementation, and exercise methods to ensure

turbocharged results safely and effectively

.

Programs

Only the "Corporate Approved" training methods, leading to

stale, boring workouts

aimed at a very large demographic.

Minimally certified (if at all), and minimally educated

.

Awesome workouts

utilizing different modalities of exercise, including TRX Suspension trainers, kettlebells, free-weights, advanced body weight exercises, and more! No more boring cardio, just fun, effective exercise that works!

Training

Slow paced, tedious workouts

as you dodge busy gym traffic or struggle to use clunky and awkward equipment. Once you get sick of doing the same workout, every single workout – you won't show up anymore!

Integrated nutrition programming suited for your goals,

focusing on your lifestyle and what will work for you

. Fully detailed caloric goals, including micro- and macronutrient breakdowns, food shopping lists, and even grocery store tours!

Nutrition

Regurgitated information

from a small pamphlet week after week, or even worse an

endless barrage of sales tactics

to get you to buy their meal replacement products or food plans.

Affordable pricing

that works with your goals and budget in mind. We will work with you to get the most results for the least amount of your hard earned money.

The most affordable one-on-one solution in the Treasure Valley – GUARANTEED

.

Rates

Extremely expensive, with long-term contracts

that lock you in even if you don't want to stay with them! Very little value, with only minimal attention to your program to keep stringing you along – hoping and wishing for better results.

Read our testimonials, enough said.

Extremely fast results

, covering everything to

huge strength increases

to

maximal fat loss in record time

!

Results

Good luck!
Session Based Pricing:
Our most affordable option for those looking to purchase a greater amount of sessions in advance.  When you make a commitment to fitness, we help you succeed with a lower cost, longer term option that guarantees your favorite time-slot.  Session based pricing discounts start at 3 session packs, with the greatest savings at 36+ sessions.
Month-to-Month Pricing:
Pay month-to-month with no long term contract obligations.  Your purchase begins with your first scheduled session and ends 30 days later.  Choose the amount of days per week you want to come in for that month, and guarantee a timeslot for that 30 day period!
Studio Training Includes:
A fully customized program designed to help you meet and exceed a dynamic range of goals, including improving athletic performance, shedding body fat, or gaining lean mass and strength.
Nutrition planning and education. We set aside designated time to educate about fitness nutrition without interrupting your scheduled exercise sessions.  Full nutrition programming, with calculated BMR adjusted for exercise, macronutrient profile recommendations, and more!
A private studio setting, where you can be comfortable and confident, while having access to a full range of equipment.
In-depth fitness monitoring including body fat measurements, general fitness assessments, workout logging, and detailed progress graphing.
Cancellations less than 48 hours before appointment due to client related issues will be charged full session price. Notice given 24 hours or greater prior will be forgiven once per contract term, and thereafter assessed a minimum of 50% session fee. Buy multiple sessions and save. Long term contracts are available for percentage based discounts, please call to inquire!
Our studio is located at 6485 W Interchange Ln #150, Boise, ID 83709. Click the map below to get directions from your location!